Pressure washing is an incredible way to get the exteriors and hardscapes of your home squeaky clean and stain-free. You might be wondering if pressure washing is good for your house. The simple answer is yes. Most homes can handle power washing services, especially if they are performed by a professional company that has experience with the many types of building materials and how they should be properly cleaned.
All homes can be pressured washed using various cleaning methods such as traditional truck-mounted power washing and soft washing. The type of detergents used makes a big difference when applied to stains, mildew, and fragile surfaces. Concrete, wood, glass, siding, and rooftops are all great home exteriors that benefit from pressure washing. 
Continue reading to learn about seven signs that your house will benefit from a deep pressure washing session.
Is Pressure Washing Good for Your House?
In most cases, pressure washing your house is almost always a great choice. Depending on where you live in the world, your home is exposed to various elements that range from heavy rains to snowfall. As you know, your house and hardscapes are continually exposed to the elements, and organic matter builds up on their surfaces, which causes deterioration.
If you live in a northern state that sees a lot of winter weather and you've applied salt and other de-icing agents to your driveway and sidewalks, you'll want to have these areas pressure washed in the spring. Deicers contain acids that can erode pavement, paint, and wood. If left on outdoor surfaces, it can cause premature breakdown and result in costly repairs.
Homeowners who have property in harsh climates should aim to have their house pressure washed at least twice a year. This small service renders big results and will ultimately help preserve your investment.
Does Your Roof Look Discolored? It Might be a Good Time to Pressure Wash Your House
Believe it or not, your roof is susceptible to becoming very dirty and stained. This is because this part of your home is exposed to all of the elements, UV rays, and worst of all, bird droppings. If you see black streaks on your roof, you probably have an algae problem. Algae likes to eat away at asphalt shingles and other roofing materials. The quicker you get in front of this problem, the better.
During pressure washing, an algae eroding solution will be applied, followed by the soft wash method. Most contractors opt for soft washing on the roof as not to harm the shingles. In addition, it is a safe and effective way to get rid of unsightly stains and environmental buildup.
Low-pressure washing (soft wash) removes stains and dirt from your roof and makes it look more attractive. You'll be amazed by the actual color of your roofing system once the process is complete.
Consider Pressure Washing Your House When You Notice a Sudden Increase in Energy Bills
Did you know that a dirty home exterior can significantly impact the efficacy of your home's insulation, which results in higher energy costs? The build-up of grit and grime can prevent your home from correctly regulating indoor temperatures. What does that mean? Well, it means your home won't stay warm in winter or cool during the summer months.
Pressure washing your siding, windows, and roof will eliminate this problem by removing stuck-on organic matter like silt, mud, mildew, and animal waste. You'll see a difference in temperature regulation immediately after your home has been power washed.
Dirty, Lackluster Siding Suggests that Pressure Washing is a Good Idea for Your House
Do you remember the day the siding was put onto your house? Even if your home is decades old, having brand new siding installed makes it look like new. However, without proper care, that new siding can quickly become dull and lifeless due to a buildup of dirt. Pressure washing is the perfect solution for combating this problem.
You don't want your home looking older than what it really is, and keeping the siding cleaned will ensure that it doesn't. There are numerous stains that can afflict your siding, and they need to be professionally removed so that your surfaces are not damaged.
There's nothing more unsightly than seeing a home that has green moss, mold, or algae staining the siding. Talk about a decrease in curb appeal!  Pressure washing gets rid of all of these eyesores.
Thinking of Repainting Your Home? It's a Good time for Pressure Washing Services!
Even the most prestigious, high-quality paint is no match for a dirty surface. For example, it is absolutely pointless to paint over your dirty siding and windowpanes because your fresh paint job will appear dull and dirty right off the bat, which defeats the purpose of painting altogether.
Before you get out your paintbrushes and rollers, we highly recommend having your house professionally pressure washed first. Cleaning your home's exteriors creates a blank canvas for you to apply paint too and the results will be mesmerizing.
Is Pressure Washing Good for Your House When Mold & Mildew are Present?
Yes. 100%. Mold and mildew can be an extreme hazard not only for your home's exteriors but also for your health. For example, if you live in an area that is prone to moisture, you might be at a higher risk of developing a mold problem on your siding, roof, fences, and porch.
Professional pressure washing services are a must-have when mold is present because there are specially formulated soaps and detergents that need to be applied to remediate the material successfully.
Remember, mold is incredibly unsightly, but it can also affect the health of your family and pets in a negative way.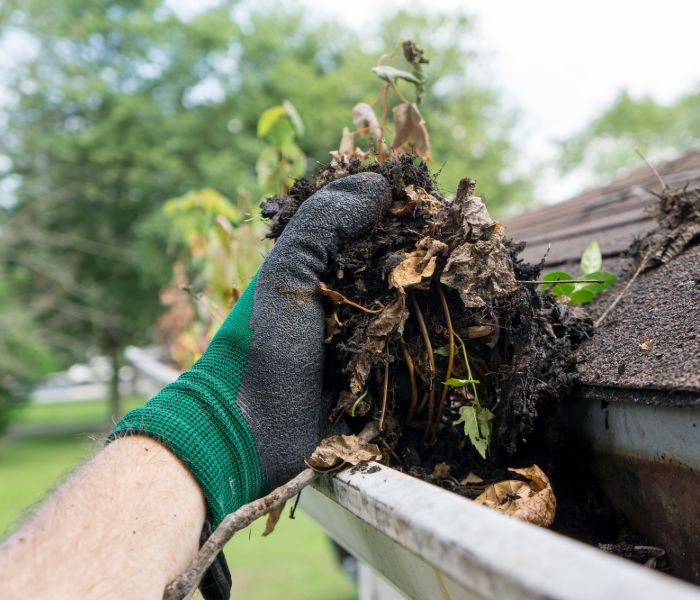 Are Overflowing Gutters a Sign that My House Needs Pressure Washing?
That would be a yes. If you have trees in your yard and they are in close proximity to your house, the chances of your gutters becoming filled with leaves, bark, and even animal nests are high. The safest way to get your gutters cleared is through professional power washing services.
Most companies have safety equipment that allows them to reach the gutters and clean them out without any issues. Gutter cleaning is almost always exclusively performed with the soft wash method as not to disturb structural integrity.
What Does it Mean When There are Spider Webs All Over My House?
It means it's a good time to have your house pressure washed. Although spider webs cannot harm your home's exteriors, they are still incredibly unsightly and decrease the curb appeal of your property. Imagine if you're trying to sell your home. Nobody wants to buy a house that's covered in spider webs.
Pressuring washing your home instantly gets rid of spider webs and restores the clean and cheery look of the structure.
What are the Benefits of Pressure Washing?
There are many reasons to pressure your house that extend far beyond cosmetic reasons. Power washing is actually about protecting your investment. After all, you paid a lot of money for your house, so why not keep it in great shape for as long as you can?
Here are eight benefits of pressure washing your house:
It prevents damages from happening to your home exteriors.

Pressure washing is a form of home maintenance that will save you money.

Easily prime your surfaces for restoration through power washing.

Did you know pressure washing protects the health of you and your family from harmful environmental debris like mold and chemicals?

Most professional pressure washers use EPA-certified detergents that are biodegradable and safe for humans, pets, and plants. Get a clean home without damaging the environment!

Because pressure washing is the most effective form of exterior house cleaning, it inevitably saves you loads of time.

Power washing instantaneously restores the curb appeal of your home.
As you can see, there are many reasons to have your house pressure cleaned.
How Often Should You Have Your House Pressure Washed?
There isn't a one-size-fits-all answer to this question. Ideally, under normal circumstances, a home should be pressure washed at least once per year. However, when does anyone ever have normal circumstances?
When unforeseen things like storms happen, you'll need pressure washing services to clean up the debris that is stuck onto your windows, siding, and roof. You might even find yourself dealing with mold or mildew before you're due for your annual pressure washing services and need to have a team come out and remove the substances to prevent staining and health hazards.
It's really up to you, the homeowner, as to how often pressure washing takes place. However, suppose you notice your home is losing its appeal. In that case, your energy bills are rising, and you can no longer remember what the true color of your siding is, it's probably time to initiate pressure washing services.
How Much Does it Cost to Get Your House Pressure Washed?
It's different for every household. Things like size, location, and the services being rendered all play a role in how much it costs to have your house power washed.
According to HomeGuide, "Pressure washing prices range from $173 to $311 on average, it's with most homeowners spending around $211 to hire a professional. Power washing a house costs $173 to $358, while pressure washing a deck or driveway ranges from $108 to $262. The average cost for power washing is $0.35 to $0.77 per square foot, and your total price will depend on the square footage of the job. There are differences between power and pressure washing that are important to understand before hiring a pro."
The best thing you can do is call around to area pressure washing companies and inquire about their prices. Make a list of what each contractor charges and which services are covered under that rate. Make sure to tell them the size of your home and the surfaces and hardscapes you're looking to have pressure washed.
Why Should You Not Pressure Wash Your House?
It's generally safe to have your house pressure washed, but there are certain surfaces and fixtures that should be avoided. Sometimes, power washing can cause damage to fragile surfaces or materials that are old and weathered, like cracked concrete and chipping wood.
Wood siding should always be pressure washed with care because water can get underneath it and cause mold growth. This material is also very soft and susceptible to dents, so using the proper power washing technique is crucial.
Does your home have outside electrical panels and meters? You'll want to avoid blasting them with pressurized water for obvious reasons. However, keeping these components clean can easily be done with a damp cloth.
If your roof is covered with asphalt shingles, it is never wise to pressure wash it yourself. Instead, hire a professional who has the right equipment to safely clean the shingles using a low-pressure method that won't damage them or cause upheaval.
Lastly, if your home has been painted with lead-based paint, you want to avoid pressure washing altogether. Most older homes have lead lurking beneath the surface of new paint, so please bear that in mind.
A professional pressure washer knows how to treat lead paint because they have special equipment that won't cause the paint to chip and spread all over your yard.
Highly pressurized water can chip old lead paint and deposit it into your soil where your kids and pets play, which is an obvious health hazard.
Deciding on whether or not it is a good time to pressure wash your home can be done through a quick evaluation of your property. For example, if your siding and windows have lost their sparkle and you want them to look great again, it might be wise to hire a company like Tampa Bay Roof Cleaning.
We're a company that has over 20 years of experience in pressure washing services. We offer traditional power washing and gentle soft washing for surfaces that require a little extra TLC. Our team of pressure washers only uses top-rated detergents and equipment to make sure the job gets down right the first time.
If you want to restore the outside of your home to a like-new state and increase curb appeal, reach out to a company you can trust for high-quality pressure washing services.